Acuvue Oasys for Presbyopia Contact Lenses
Regular Price:
€43.77

*

per box
Manufacturer:
Johnson & Johnson
Type:
Bifocal Lenses
Contains:
6 Lenses per Box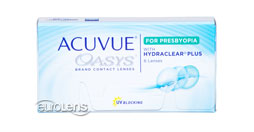 Enter Prescription
Need Prescription Help?

Prescription Information:
OD

right eye

OS

left eye

Brand name

eg. Acuvue

BC / Base Curve

a number between 8.0 and 10.0

DIA / Diameter

a number between 13.0 and 15.0

Power / Sphere / Rx

a number between -20 and +20
In Addition for astigmatic patients:
Cylinder

a number between -4.00 and +4.00

Axis

a number between 0 and 180

Cylinder and Axis are usually separated by a x
For Multifocal, Bifocal lenses or Presbyopia:
"Addition" or "add" is usually preceded by "+" or is listed as "low", "mid" or "high" depending on the lens manufacturer.
Product Information:
Acuvue Oasys for Presbyopia features Stereo Precision Technology, a unique optical design that works with your eye's natural depth of clear focus. So you can enjoy crisp, clear vision near, far and in-between, across variable lighting conditions. And with patented Hydraclear Plus technology built in, you'll feel almost like you're not wearing lenses at all – even in environments that might dry out other lenses, such as long hours in front of a computer, on an airplane, or in an air conditioned or heated room.
Acuvue Oasys for Presbyopia

Reviews