SofLens MultiFocal Contact Lenses
Regular Price:
€64.24

*

per box
Manufacturer:
Bausch & Lomb
Type:
Bifocal Lenses
Contains:
6 Lenses per Box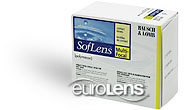 Enter Prescription
Need Prescription Help?

Prescription Information:
OD

right eye

OS

left eye

Brand name

eg. Acuvue

BC / Base Curve

a number between 8.0 and 10.0

DIA / Diameter

a number between 13.0 and 15.0

Power / Sphere / Rx

a number between -20 and +20
In Addition for astigmatic patients:
Cylinder

a number between -4.00 and +4.00

Axis

a number between 0 and 180

Cylinder and Axis are usually separated by a x
For Multifocal, Bifocal lenses or Presbyopia:
"Addition" or "add" is usually preceded by "+" or is listed as "low", "mid" or "high" depending on the lens manufacturer.
Product Information:
Soflens Multi-Focal are disposable contact lenses manufactured by Bausch & Lomb. Now you can enjoy optimum vision quality at every distance and the freedom of soft contact lenses, with Soflens Multi-Focal lenses from Bausch & Lomb. The unique Natra-Sight Optics creates easy transitions from near to far, and all points in between. The patented edge design provides all day comfort. Be free of your reading glasses or bifocals- just because you have Presbyopia, doesn't mean you can't wear contact lenses. Enjoy freedom and flexibility!
SofLens Multi-Focal contact lenses are tinted for ease of handling and will not change the color of your eye. The tint is simply designed to facilitate locating the contact lenses in solution.
SofLens MultiFocal

Reviews