Biotrue ONEday Contact Lenses
Regular Price:
€60.19

*

per box
Manufacturer:
Bausch & Lomb
Type:
Daily Disposable
Contains:
90 Lenses per Box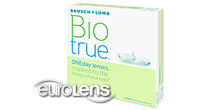 Enter Prescription
Need Prescription Help?

Prescription Information:
OD

right eye

OS

left eye

Brand name

eg. Acuvue

BC / Base Curve

a number between 8.0 and 10.0

DIA / Diameter

a number between 13.0 and 15.0

Power / Sphere / Rx

a number between -20 and +20
In Addition for astigmatic patients:
Cylinder

a number between -4.00 and +4.00

Axis

a number between 0 and 180

Cylinder and Axis are usually separated by a x
For Multifocal, Bifocal lenses or Presbyopia:
"Addition" or "add" is usually preceded by "+" or is listed as "low", "mid" or "high" depending on the lens manufacturer.
Product Information:
Biotrue™ ONEday was created by the eye health scientists at Bausch + Lomb to be the first daily disposable lens inspired by the biology of your eye. The bio-inspired lenses contain the same water content as the cornea, while delivering virtually the same oxygen level. Biotrue™ ONEday contact lenses mimic our own healthy tears and are proven to maintain the same moisture level as the natural eye. This helps them retain their shape and maintain clear vision throughout the day.