FreshLook ColorBlends Contact Lenses
Regular Price:
€72.96

*

per box
Manufacturer:
Alcon
Type:
Color Disposable
Contains:
6 Lenses per Box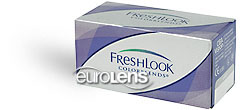 Enter Prescription
Need Prescription Help?

Prescription Information:
OD

right eye

OS

left eye

Brand name

eg. Acuvue

BC / Base Curve

a number between 8.0 and 10.0

DIA / Diameter

a number between 13.0 and 15.0

Power / Sphere / Rx

a number between -20 and +20
In Addition for astigmatic patients:
Cylinder

a number between -4.00 and +4.00

Axis

a number between 0 and 180

Cylinder and Axis are usually separated by a x
For Multifocal, Bifocal lenses or Presbyopia:
"Addition" or "add" is usually preceded by "+" or is listed as "low", "mid" or "high" depending on the lens manufacturer.
Color Options:
Amethyst

Blue

Brown

Green

Grey

Honey

Pure Hazel

True Sapphire

Turquoise

Brilliant Blue

Sterling Grey

Gemstone Green
Product Information:
FreshLook ColorBlends are disposable contact lenses manufactured by Ciba Vision. FreshLook ColorBlends is a disposable soft contact lens that promotes comfort and convenience in an array of affordable colors. FreshLook ColorBlends create naturally dramatic changes to color in dark eyes. Whichever color you choose, you'll notice immediately that they look as good as they feel.
FreshLook ColorBlends contact lenses contain an inside-out "FL" indicator to help ensure proper application/insertion.
FreshLook ColorBlends

Reviews





276 people found the following review helpful:
Gogeous and comfortable all wrapped up in one
These were my first soft contacts; I'd gone over 12 years without them due to cataracts and other problems. I had Gas Perms and Hard Lenses prior to these years ago. I love them, and I get so many compliments. My natural eyes are very, very green, but have brown specks, so I got the Gemstone Green and I have people stopping to compliment me. I did have one guy ask if they were my 'real eyes'... I wanted to say 'No, these are fake ones, I left my real ones at home today'! And the price here is absolutely the BEST.
292 people found the following review helpful:
Pure Hazel, a natural change
I used to wear those vibrant colours when I was younger, but getting close to my 30's, I've got used to FreshLook ColorBlends Pure Hazel for years. It's a natural shade that softens my features with an amazing natural look.
173 people found the following review helpful:
TRUE SAPPHIRE ARE MY FAV
I have worn true sapphire for 8 years!!!! they are my absolute fav. I have dark brown eyes and they still look natural!
amethyst - I should have been born with it
I have been wearing contacts since I was 13 yrs old and started wearing fresh look about 5 or 6 yrs ago I have blond hair and naturally bluish green eyes depending on my mood. I experimented with SEVERAL different colours at first but when I started wearing the amethyst something just popped it was like I was a completely different person and everyone from people at work to my friends, family and husband noticed. They are so natural looking for my complexion most people think they are my natural eye colour. I have to say NO they are fresh looks invention LOL
Ciba Vision Freshlook Colorblends
Since I was 13 I have been wearing freshlook colorblends. Im now 22 I always get green, gray, and honey. I love them because they are comfy and make my eyes look sexier. Not to mention my girlfriend insists on me wearing them. Thank you freshlook colorblends!!!!
Freshlook Colorblends Contacts
I have very dark, nearly black eyes and I wear the sterling silver (looks blue), the green, gemstone green, honey and the grey and people always think they are my natural eye color. They are very comfortable and I love that I can match my eye color to my outfits!
Since I was 13....Now 25
I color of choice is grey. People really think that they are my eyes just like everyone elses review. But there was one guy who knew they were contacts but said he can't help but love them. Made me blush lol. I have tried other brands, its just not the same. I always go back home to Freshlook Color Blends.
OMG
Although my brother says its not good to change the way you are made, I've enjoyed Freshlook Colorblends contacts for a year now and I've felt great. I've been grey-eyed, purple-eyed, and about to try turquoise.
Great contact
Fantastic contact! I ordered the Freshlook colorblends green for both eyes, and they look great! I only wish they offered the Gemstone geen and all the other new colors for people with astigmatism nin the toric lens. Hey, if your reading this,get to it on making the torics in these new colors, or at least in Gemstone Green!
Sterling Gry on dark eyes-wonderful!
I JUST wore contacts for the first time ever in my life today, and they were the Freshlook Colorblends Sterling Grey ones. They show up so nicely on my dark brown eyes. They're a little uncomfortable for me, but I'm also not used to contacts so I'm sure it's something I adjust to eventually. In pictures, they look silver. They look very real unless someone is like 5 inches away from your face. All in all, I'm veryyyy pleased and would recommend these to anyone with dark eyes. They show up way better than I had expected.