Acuvue Oasys Contact Lenses
by Johnson & Johnson
Type: 1-2 Week Disposable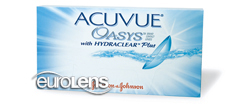 Enter Prescription
Need Prescription Help?

Prescription Information:
OD

right eye

OS

left eye

Brand name

eg. Acuvue

BC / Base Curve

a number between 8.0 and 10.0

DIA / Diameter

a number between 13.0 and 15.0

Power / Sphere / Rx

a number between -20 and +20
In Addition for astigmatic patients:
Cylinder

a number between -4.00 and +4.00

Axis

a number between 0 and 180

Cylinder and Axis are usually separated by a x
For Multifocal, Bifocal lenses or Presbyopia:
"Addition" or "add" is usually preceded by "+" or is listed as "low", "mid" or "high" depending on the lens manufacturer.
Product Information:
Acuvue Oasys are weekly disposable contact lenses manufactured by Johnson & Johnson. Hydraclear Plus is an exclusive Acuvue technology that combines a remarkable wetting agent with a high- performance oxygen-transmitting silicone hydrogel. This unique technology creates a lens that's extremely smooth and moist without stiffness or a need for surface coating like some other silicone-hydrogel lenses. Acuvue Oasys are FDA-approved for overnight wear (up to one week). And Acuvue Oasys helps protect against the direct and reflected rays that pass through the cornea into your eye, blocking up to 82% of UV-A radiation and 97% of UV-B radiation
Acuvue Oasys are tinted for ease of handling and will not change the color of your eye. The tint is simply designed to facilitate locating the contact lenses in solution. These contact lenses contain an inside-out "AV" indicator to help ensure proper application/insertion.
Price Comparison:
Package Size
Our Lowest Price
Retail Price
Your Savings
6 Pack
(

3

Month Supply)
€14.81

*

€49.89

*

€35.08

*

12 Pack
(

6

Month Supply)
€48.97

*

€90.27

*

€41.30

*

24 Pack
(

1

Year Supply)
€100.04

*

€163.29

*

€63.26

*
Acuvue Oasys

Reviews





483 people found the following review helpful:
Acuvue oaysis
I have been wearing these contacts for 4 years.. They are fantastic.. my doctor gave me a trail pair of some other brand and I hate them.. my eyes are drying out and i have to use eye drops all the time.. I cant wait till my order comes in for my acuvue.. I will NEVER use another brand.. I tried many and these are the absolute best ever.. Thanks
484 people found the following review helpful:
Acuvue Oasys... Outstanding
Other contacts dry out fast and just about fall out of my eye by the end of the day, these lasted!! I work really long hours and I have had no problems !!
483 people found the following review helpful:
Acuvue Oasys Contacts Are Great!
I've used the Acuvue Oasys contacts for several years. very seldom that they dry out or irritate my eyes. Oh Yes, I wear them 24 hrs a day from 2 to 3 full weeks at a time before I go to glasses for a 2 day rest. It's not often that I'm even aware of them.
483 people found the following review helpful:
Excellent Contact Lenses
These accuvue oasis contacts are very comfortable and they are awesome. I can wear this for long periods of time without using eye drops. Most of the time I don't feel the lenses in my eye Occasionally I have to use eye drops when working in a dusty environment. Another advantage the accuvue oasis contacts have over most other lenses I tried is that they give me rather consistent vision throughout the day, which most other lenses and glasses can't give me. The other lenses I tried either move around the eye too much or get dried out easily.
483 people found the following review helpful:
Acuvue Oasys with Hydraclear Plus
I've worn contacts for many years and have never worn more comfortable contacts than acuvue oasys with hydraclear plus! I leave them in day and night and never have a problem (and I have dry eyes). I don't even know they are in my eyes. These are by far the BEST lenses. You don't have to believe any of these testimonials - just get a trial pair of acuvue oasys contacts and try them out. You'll be back to get more. :0)
483 people found the following review helpful:
LOVE THEM!
THese acuvue oasis contacts are smooth and comfortable. THey are the best I have tried and I have tried many!
484 people found the following review helpful:
the best so far
I have been searching for the right contacts and even gave up. The this year I decided to try a different MD and he gave me a trial pair of the acuvue oasys contact lenses and OMG they really are GR8. I just hate it took so long to find theses!!!!!!!!!!!!!!!!!!!!!
483 people found the following review helpful:
Best contacts I've tried
I recently got contacts, and because my eyes get extra dry my doctor and I went through quite a couple of brands to find a suitable pair. Accuvue Oasys contacts really DO feel more comfortable, even when comparing against other known brands and other Acuvues, and doesn't dry out my eyes as much as others have done. We did settle on opening the B/C a bit more which also helped a lot.

Overall, really comfortable and helps with the dry-eye problems.
483 people found the following review helpful:
I can nap! :)
My optometrist recommended that I try the Acuvue Oasys lenses because I have two small children and I like to take a short nap during the day when I get a chance. These Acuvue Oasis contacts have not dried my eyes out at all even with wearing them 12+ hours a day, napping with them in, and living in an extremely dry area. They are so comfortable that I often forget that I even have them in! Thank you J & J for a wonderful product!
483 people found the following review helpful:
Acuvue Oasys are the best lenses ever !!!
I have worn some type of contact for 26 years now and until now there has always been some level of discomfort even with the soft lenses I have worn. Now, I can hardly feel these Acuvue Oasis lenses are in my eye... if it wasn't for the fact that I can see I wouldn't belive I was wearing contacts.
483 people found the following review helpful:
No more dry eyes
I love Acuvue Oasys with hydraclear plus contacts. No more dry eyes. I wore another type and by 4pm in the afternoon my eyes were irritated and very dry. I always felt like something was in my eyes. Now, I don't have any irritations at all. The only negative for me was I used a generic brand soft contact lens solution and every night I soaked my lens they would tear so I finally figured out I had to buy a top brand solution after disposing 3 contact lens in 3 days.
483 people found the following review helpful:
Accuvue Oasys trial pair contact lenses
Two days ago I got fitted for my first contact lenses ever. I wore the Acuvue Oasys with hydraclear plus for only 6 hours the first day and when I went to remove them I did remove one and the other I could not find or see for the life of me so I thought I already lost one! Next morning determined to practice I tried to insert the remaining one and thought I lost it too because I couldnt see it in my eye and it was folded so I wanted to fix that. I thought I lost both with in a day and imagine my surprise when two days later I found both they were still in my eyes! I didnt even feel them and that was with one folded!I guess it doesnt get much better than that esp. since I NEVER had worn contacts yet!
486 people found the following review helpful:
Spectacular!!!
I could never wear contacts for more than 4 hours at a time. My doctor fitted me with Acuvue Oasis contact lenses about a year and a half ago and bye bye glasses! I recommend Acuvue Oasis contacts to everyone who has problems when their contacts cause dry, scratchy eyes.